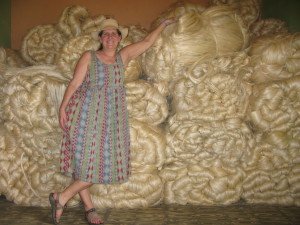 When I moved to Southeast Alaska in the late-seventies I felt like I had found my place. For many years I worked for the forest service, living in isolated camps all over the region. In the early-eighties a friend talked me into taking a cedar bark basketry class at the Totem Heritage Center in Ketchikan. This was my first textile experience, and I instantly fell in love with basket-weaving.
In 1986 I left Ketchikan to serve as a Peace Corps agro-forestry volunteer in Guatemala, Central America. During this time I learned backstrap weaving and joined the Museo Ixchel del Traje Indigena (textile museum) to understand regional textiles. When I returned to Ketchikan in 1989 Northwest coast Ravenstail weaving was being reintroduced and besides learning how to weave this style, I worked on the "mother robe" with a group of weavers, and am a charter member of the Ravenstail Weaver's Guild. Later Chilkat weaving became my focus, and winter travels spent visiting artisans in villages and markets, mostly in Latin America and Indonesia further cemented my textile passion. A desire to devote my life, and focus completely on textiles, led to graduate school, a Fulbright grant to study maguey or agave fiber textiles (with the Museo Ixchel as my affiliate I learned net bag techniques, including looping or knotless netting), and all that has happened since.
I love working with my hands and the repetitive rhythm of the individual stitches. I also enjoy collecting beads and incorporating them into my work. Harvesting and preparing materials to perfection are also important aspects of my work, as is knowing of the historical context from which woven items evolve.
Currently my contemporary baskets merge traditional techniques (twining, plaiting, braiding and looping) and materials (cedar bark and agave fiber) of Southeast Alaska and Guatemala. The only tools that I use to create these pieces are my hands and a needle. For the baskets I first soak round reeds, cedar root and cedar bark in water to soften them. I then bend the roots and reeds into forms, and "draw" with additional reeds to create shapes and designs within the greater structure. From this I loop yellow cedar bark to fill in the spaces. An under layer of woven abaca (Manila hemp) stabilizes the work and adds contrast in the negative space. I always start from the bottom and work upwards, as the final organic form tends to change slightly as I work. Over the reed patterns I place a three strand cedar bark braid, which defines the design element. When complete I often embellish the inner "line" with beads, sewn in place by colorful waxed linen thread.
Intertwined with weaving I photograph, write, teach workshops, curate exhibits and give presentations, because, besides a love of weaving, connections to places, artists and their art are important to me. All contribute to the whole, bouncing off of each other, influencing and inspiring me to create.